I've been asked to present Power BI best practices to a client on Monday. This two post series is part reference to great articles and partly my own insights on the topic, some gained by painful experience. Part one, below, addresses BI project strategy and
part two covers tactics
:
#1 Find a significant business need and address it.
To start out using best practices it is wise to begin with the operating environment.
The Business.
Your BI solution is a system designed to address a business need, it is not a stand alone project. The opportunities for BI solutions are numerous. The
ComputerWorld Weekly article by Forrester in August of 2013
shows a chart that categorizes business needs from BI. This chart also shows that many, if not most BI programs miss on these outcomes. Don't forget to address these objectives as you design, build and implement your solutions.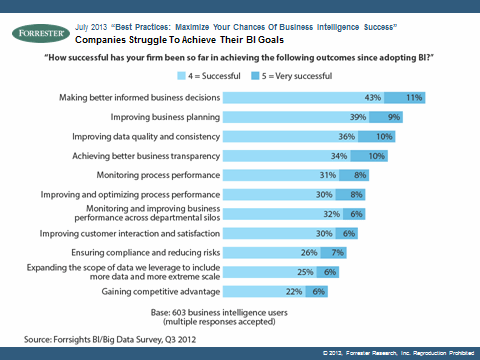 #2 Address the business opportunity where BI can make the most impact with the least delay.
Find the need, then partner closely with sponsors, other stakeholders, and most closely with those who will use your system, to define and deliver success. Without these three levels of buy-in throughout the project you are at significant risk of delivering a product that doesn't fulfill expectations.
Identify data sources
and their availability
to determine feasibility of this project. If there are significant challenges in data gathering or validation for this project - identify them, determine responsible parties in the business to resolve the issues (use your company's Data Governance organization or create one) and then either find other data or find other opportunities. Do not get bogged down by data issues, this can kill a BI project.
#3 Iterate to quickly deliver solutions to the business.
Every week that you wait to deliver as you perfect or add features to the BI solution is a week that the business doesn't have visibility to their information. Produce the minimum viable product, test it thoroughly and validate the results, then get it to your business partners. Their feedback on the "incomplete" product will be invaluable as you continue to develop your solution and they will quickly benefit from your hard work.
#4 Find a BI tool that best supports the business need, then design a solution that supports users.
A
2014 article on CIO.com "9 Common BI Software Mistakes"
calls out selecting a tool in isolation as one of the worst BI mistakes. Invest your time and money in a tool that will fit business requirements, work with the business to validate your selection. The overriding objective of any BI solution is to deliver a system that users find helpful. Then, build your solution with the user in mind.
Do you have other strategic concerns that must be addressed when beginning BI projects? Please comment or share your thoughts.
The next post in this short series addresses tactical issues related to the development of a specific BI solution.